Not just "a" supercar,
it's "the" supercar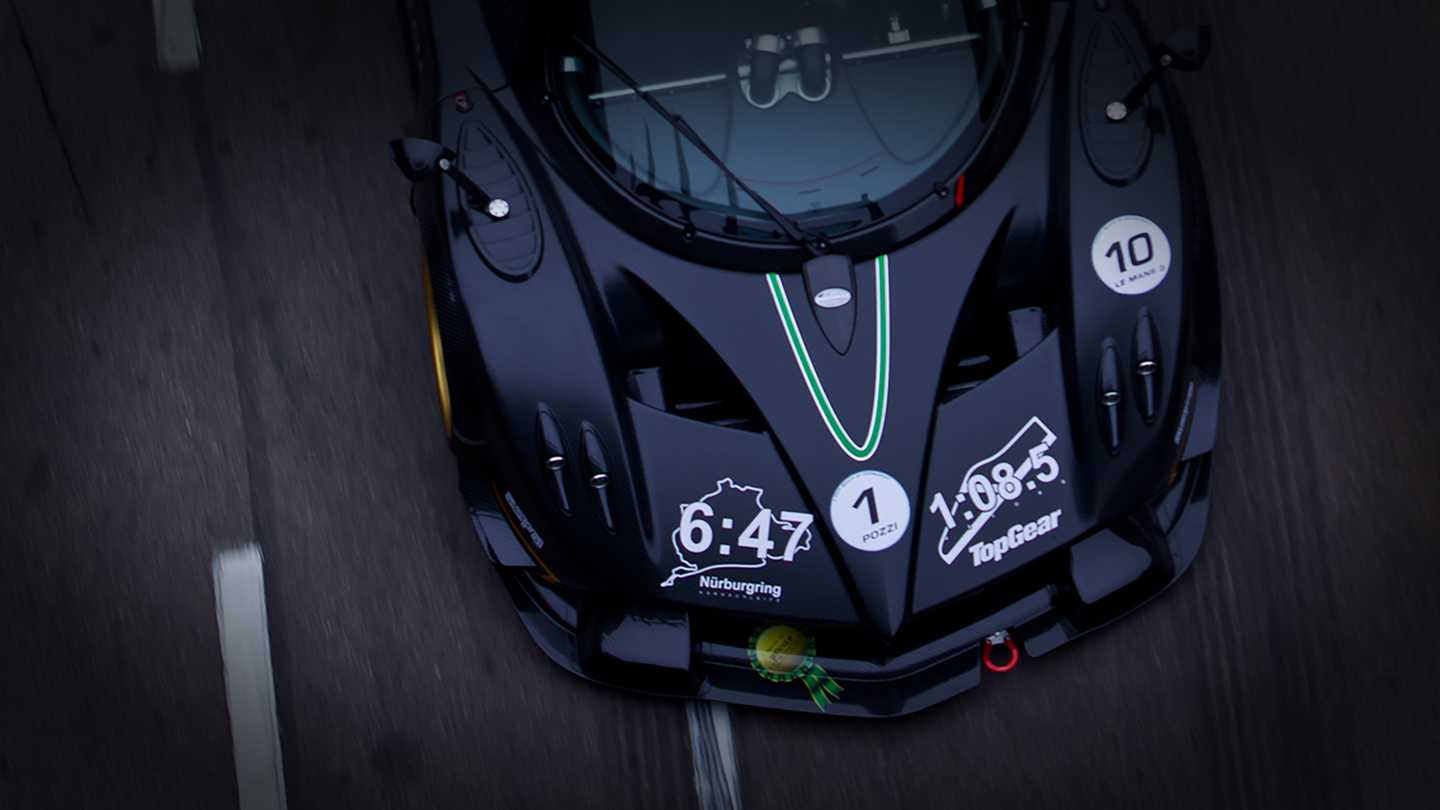 ZONDA R
Flying on the wings of a wind that keeps blowing harder and faster, the Zonda R was designed for the racetrack, and from the racetrack, without limits.
READ MORE
Flying on the wings of a wind that keeps blowing harder and faster, the Zonda R was designed for the racetrack, and from the racetrack, without limits.
This fabulous supercar is ready to display its character in total purity and freedom. Inspired to the F version, this extreme supercar that features a longer wheelbase was created specifically to meet a client' request. It embodies dedicated engineering know-how that represents the outcome of the maximum expression of aesthetic, aerodynamic and ergonomic research carried out at Pagani's atelier.
New heart, new guise.
The central monocoque in carbon-titanium, more rigid and lighter than ever, encases a Mercedes-Benz AMG V12 high-performance racing engine as if it were a precious gem. This four wheel prodigy is able to deliver 750 HP and produce a torque of 710 Nm. This engine is bolted directly to the central monocoque. A direct throttle actuation via mechanical cable ensures immediate throttle response, thus achieving improved propulsor performance in terms of reactivity.
20 milliseconds is the time needed by the Zonda R to perform gearshifts, thanks to a transversal sequential gearbox in magnesium, enhanced by the Xtrac transmission technolgy, Automac Engineering automation and the shift paddles located behind the steering wheel.
Intuitive, simple & configurable
When it comes to the creation of the most extreme versions, Zonda R is a clear indication that the Modenese atelier – on a par with the greatest fashion designers- is capable of strengthening its uniqueness without sacrificing driver comfort.
High performance combines with driving simplicity and manoeuvrability, thanks to a 12-way Bosch Motorsport traction control and ABS system which allows the driver to fully adjust the settings while driving the Zonda R. At the pits, the driver will be able to find a suitable setup thanks to a fully adjustable suspension and wing configuration.
0-100 in less than 2.7 seconds
A power-to-weight ratio of 701 hp-per-ton combined with Pirelli Pzero tyres can catapult the driver from 0 to 100 km/h in less than 2,7 seconds, while the Brembo carbon ceramic brakes ensure the car comes to a standstill even quicker.
A dry weight of 1.070 kg is achieved through the AvionAl suspension components, Aspa machined structural ErgAl parts holding the engine and the gearbox, and Poggipolini Titanium screws. Moreover, aerodynamic setups allows for a high downforce setting of up to 1.500kg and a 350kmh top speed setting. The effectiveness of the rear is matched by the complex new front bonnet, as well as the closed flat underbody and rear diffusor.
Interior design: attention to detail and safety.
The bespoke Toora seats, FIA approved and compliant with the latest HANS standards, along with five-point safety belts and roll-cage guarantee optimum driver safety. Although the overall conformation is kept to a bare minimum, the high quality finish and attention to detail do not fail to comply with the usual demanding Pagani Standards.
Produced in a limited run of 15 units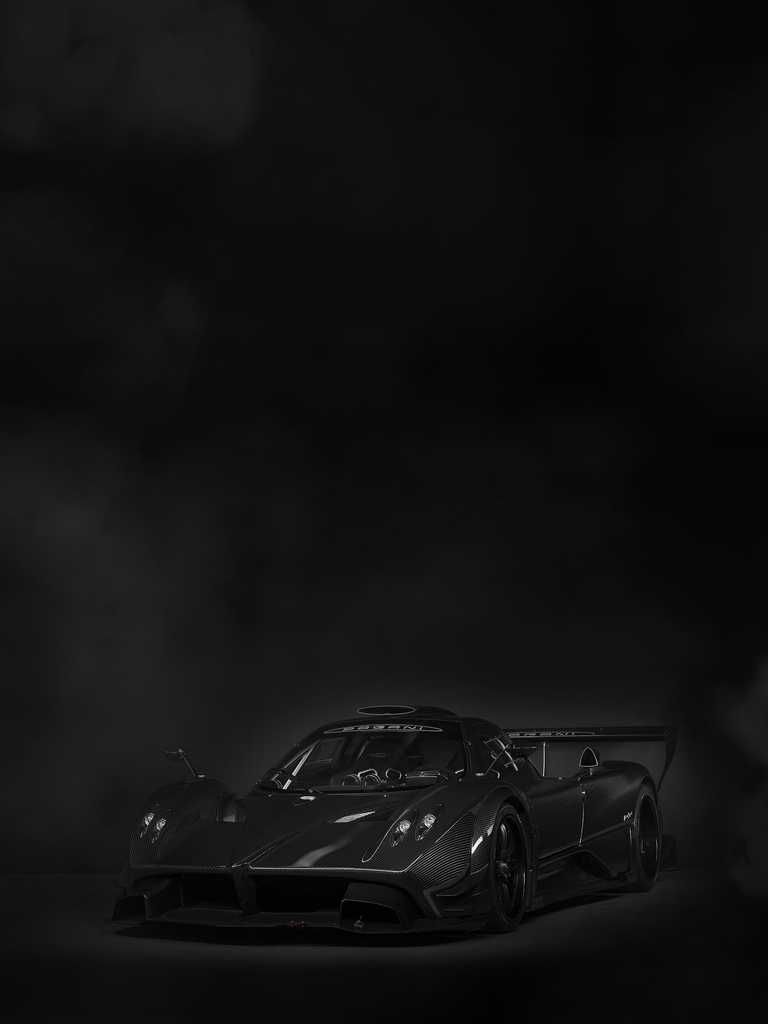 Specifications
Engine
Intake and exhaust system
Transmission and Traction control
Gearbox
Carbon-ceramic brakes and discs
Wheels and Tyres
Suspensions
Structure
Dimensions
Safety
Performances
Discover the power, the speed, the acceleration and all the technical specifications that make this car a work of engineering signed Pagani Automobili. More details
Mercedes-Benz AMG M120 12 cylinder V 60°, 48 valves; displacement 5987 ccm, dry sump; Torque Nm/rpm: 710/5.700; Stroke 80,20 mm; Bore 89,00 mm
Intake: Single throttle bodies, mechanically operated; Exhaust system: Hydroformed Inconel, ceramic coated
Transmission: Longitudinal mid engine; rear wheel drive with self-locking differential; Traction control: 12 Stage; Bosch Motorsport traction control system
XTRAC 672 bespoke magnesium casing gearbox, 6 speed sequential dog gearchange with Automac Engineering AMT system
4 ventilated Brembo disks, hydraulic power brake; 12 Stage - Bosch Motorsport Race ABS - Discs: Front 380x34 mm 6 piston caliper; Rear 380x34 mm 4 piston caliper
Forged alloy APP wheels; 19??? front, 20??? rear - Tyres: Pirelli P Zero Zonda R: front 255/35/19; rear 335/30/20
4 independent wheels with double A-arm; Forged Avional suspension arms; pull rod helical springs and Öhlins adjustable shock absorbers
Central carbon-Titanium chassis, Engine is a stressed member; front and rear Cr Mo space frames; bodywork carbon fiber MD System
Length 4886 mm; Width 2014 mm; height 1141 mm; Wheelbase 2785 mm; Dry weight 1070 kg
Roll cage in Cr Mo steel; carbon fibre seats HANS compatible; five point harness
0-100 km/h in 2,7 sec.; Top speed: oltre > 350 km/h
Back to previous screen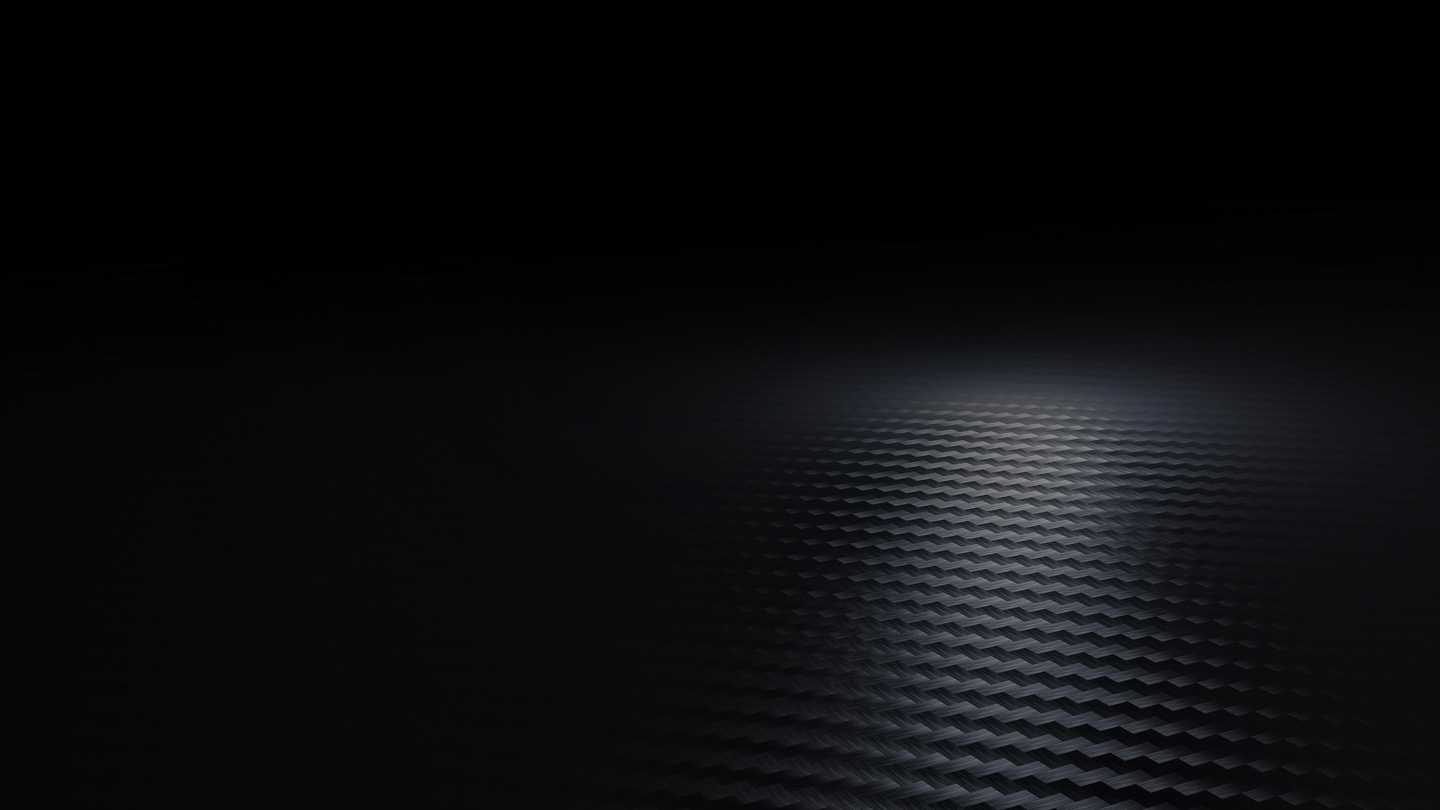 PARTNERS
Building an object as complex and full of state of the art solutions such as the Huayra not only takes brilliant minds, but real artists. We are proud to have technology leaders amongst our partners; redefining the limits, finding new solutions, processes and technologies. More than partners, I would say they are members of our family, sharing with Pagani Automobili the fundamental values, dreams and the passion.